Container ports in Europe: Top 15.
---
Container throughput growth 2007-2017.
---
The following graph shows the throughput growth in container ports in europe from 2007 to 2017 (Source: Port Economics, March 2018. In Million TEU).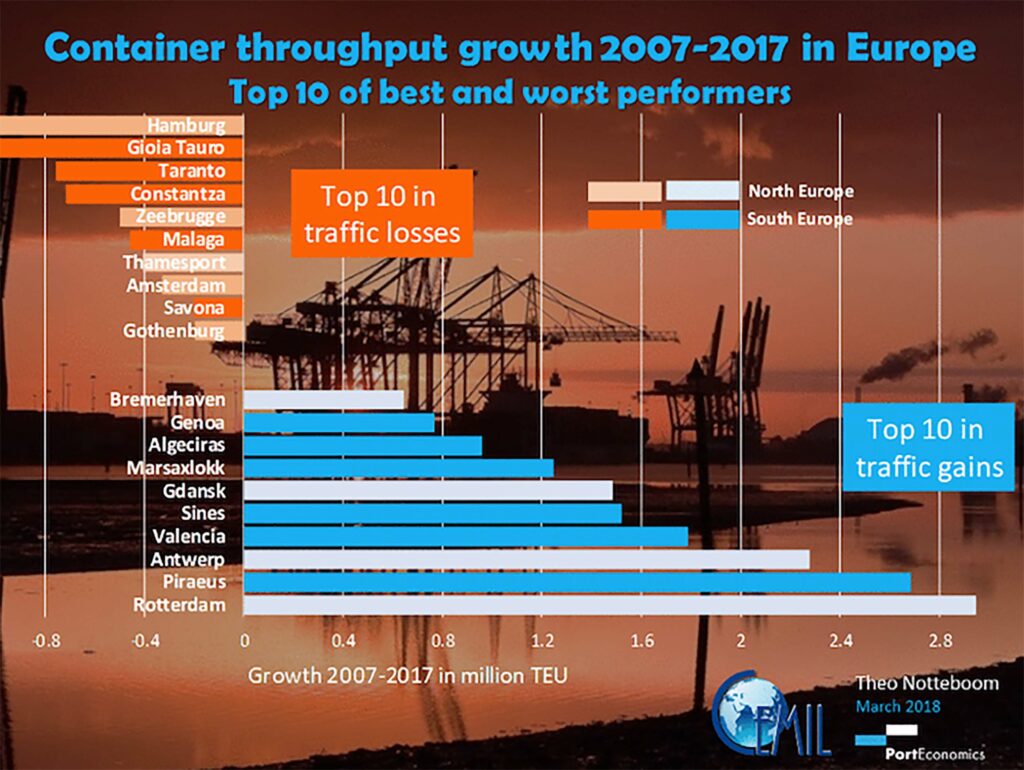 It is possible to see how the total container throughput in Europe increased by 17 million TEU.
About the losers, Mediterranean ports like Gioia Tauro and north European ports like Hamburg were hit by the reorganizations in container alliance (e.g. Thamesport and Zeebrugge) while the volume drops of other hubs is caused by the loss or variation of their initial functions.
Among the major winners, Rotterdam has a growth of 28% between 2007 and 2017 (2.94 million of TEU) while 2.27 million TEU for Antwerp port. Notable is the new entrance of Sines port that added 1.5 million TEU of his volume in the past ten years (Theo Notteboom, Emil, Port Economics, March 2018).
THE TOP 15 CONTAINER PORTS IN EUROPE
According Theo Notteboom of the Port Economics the top 15 European container ports are:
Rotterdam 13.735 (1000 TEU)
Antwerp 10.451
Hamburg 8.820
Bremerhaven 5.537
Valencia 4.832
Algericas 4.381
Piraeus 4.060
Felixstowe 3.810
Marsaxlokk 3.150
Barcelona 2.969
Le havre 2.884
Genoa 2.638
Gioia Tauro 2.449
Southampton 2.035
Sines 1.669
The southern Europe ports are the best growers: Sines (+1012,7% compared to 2007), Piraeus (+196% compared to 2007) together with Marsaxlokk and Valencia have the highest rate of growth.
Ports with a hinterland orientation like Genoa and Rotterdam are the strongest growers while the only two ports that remain below the 2007 figures are Gioia Tauro and Hamburg.
Although it is not actually in top 15, remarkable is the performance of Gdansk port (Poland), it realized a growth of 21,6% (1.58 million TEU) in 2017 compared to 2016.
The relevant data is +4,2% of growth between 2016 and 2017 this means that the resumption of 2016's positive trend not stopped, in fact, 2015 registered a decline of 1,6% compared to 2014.
Furthermore, the growth of 19,8% of top 15 between 2007 and 2017 shows that the sector is growing and consequently the demand of bulk packaging for container is increasing.
Click here to discover Eceplast's solutions for bulk packaging and much more.