Liner to Liner: closing the loop on plastic packaging recycling
---
Leading the transition towards a circular model and more sustainable use of resources.
---
Versalis  and  Eceplast  have designed their best practice for recycling and reusing polyethylene packaging.
Versalis  (by  ENI) is the largest Italian chemical company with a global presence in the plastics and rubbers' markets. It holds market stewardship in manufacturing and in the commercialization of intermediates, polyethylene, styrenics and elastomers.  As part of  ENI's wider strategy, Versalis considers circularity to be a strategic driver in an integrated and synergic way: from resources and processes, to products throughout their whole life.
In this context is born "Liner to Liner" the project developed  in collaboration with  Eceplast, the global leading company in the production of polyethylene liner bag for containers.
Versalis  usually uses Liner bags for bulk transportation in container of polymers in pellets. Carrying the same quantity with liner bag, is possible to save ten times the plastic packaging used for traditional transport in 25kg palletised sacks, therefore it's already the best choice of environmentally friendly packaging.
But good wasn't enough and, moreover,  Eceplast has developed the first  100% recyclable linerbag  in the world, entirely made of polyethylene.
In this way, recycling of used packaging has become extremely simple and effective:
Versalis collects liners after use and ships them as recyclate to a Reclaimer for recycling.
Reclaimer transforms the used liners into a secondary plastic raw material which will be sourced to the Film Producer.
Film Producer makes a plastic recycled film and supply it to Eceplast.
Eceplast manufactures a recycled liner and ship it to Versalis for reuse.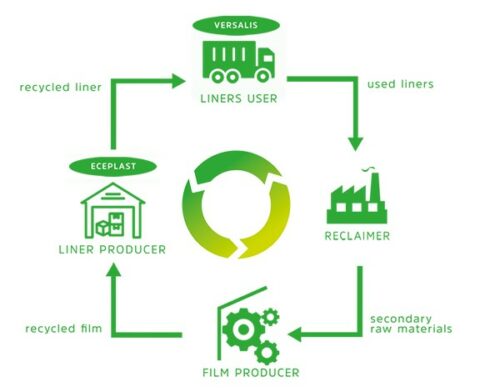 Published as "Case study" on   Business Europe  last June, the project is generating huge benefits for everyone.
Eceplast  is concentrating all its efforts in designing only sustainable packaging solutions, harmonising the technical and economic needs of  Versalis  and anticipating the most stringent regulations, as proved by the  voluntary pledge to the EU Commission, to collect and recycle the company's complete yearly production within 2025.
This virtuous circle creates business efficiencies, or even enable new business model in which sustainability becomes not just good corporate citizenship, but a better way to do business.
Please download the case study: